GAL13_19311
The Last Paradise – Dispatch from the Galapagos Islands, Ecuador
Here in the new Galapagos Airport on Baltra Island I'm reminded just how remote the Galapagos Islands really are. I'm returning from a series of photography expeditions with Lindblad Expeditions on board the National Geographic Endeavour. Even in this modern age it takes time and effort to travel this far off the beaten path – a pilgrimage to one of the last places on earth that is totally wild and pristine.
Straddling the equator, it's hard to imagine a place on earth with a higher percentage of endemic species, including the famous Darwin's finches, playful Galapagos sea lions, and the world's only marine iguanas. What separates the Galapagos Islands from other places in the world is that 97% of the land is protected within the Galapagos Island National Park, and the islands are surrounded by one of the largest and most successful marine protected areas in the world. My hope is that it will always be this way.
GAL13_22621
The Galapagos is a dream for photographers. The animals show no fear towards humans, something that's hard to comprehend until you experience it for yourself. Imagine being eye-to-eye with waved albatross and Nazca Boobies soaring along a cliff, sharing a moment with sally lightfoot crabs that don't run away, encountering blue-footed boobies nesting along the trail, and Galapagos sea lions lounging on a white-sand beach.
Even though you can get very close to the animals, it still takes extra effort to make good images, compositions with clean backgrounds and good light. A cloudy day can help soften the harsh equatorial sun. Zooming in with longer lenses helps blur the background with a shallow depth-of-field. Getting down at eye level is another way to make effective portraits of the unique Galapagos endemic species.
GAL13_17980
A tripod it's very useful in Galapagos, especially a light-weight carbon fiber model with quick-release plates that you won't mind carrying around. It's key for shooting with slow shutter speeds, for example blurring the motion of the surf washing over sally lightfoot crabs or panning with a moving marine iguana.
GAL13_16768
It was a magical couple of weeks full of surprises and especially meaningful because of all the kids traveling with parents, grandparents, and aunts and uncles. These were not your average kids, mind you, but inquisitive little wisenheimers. Very lucky kids indeed.
Imagine being 8 years old and face-to-face with a blue-footed booby? Or swimming with sea lions, penguins, and marine iguanas? These are experiences that can transform lives.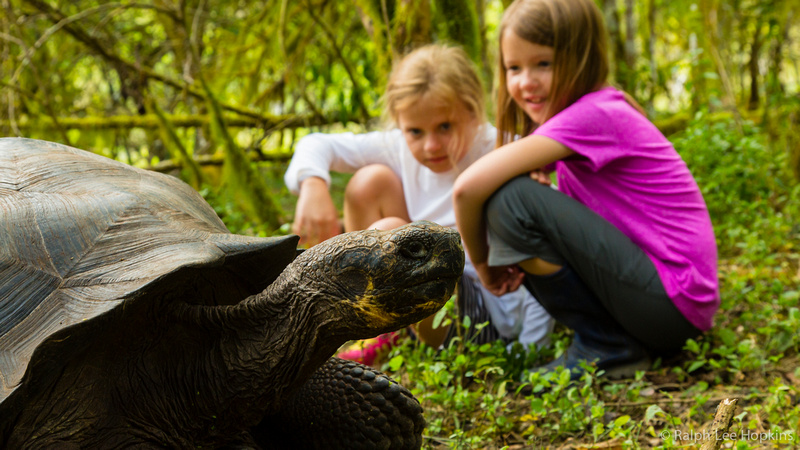 "I didn't want to go to sleep. Going to sleep would be admitting the trip is over," exclaimed Campbell Brown, age 14, as he procrastinated on the last night of the voyage. Campbell came prepared, having a waterproof housing for his iPhone. While snorkeling off Champion Island, he found himself photographing sea lions underwater when he ran out of memory. "I couldn't believe it, I was bobbing in the ocean deleting iPhone apps so I could take more pictures, " he said with a big almost embarrassed grin on his face. And he had some great images, one of which was used in the ship's Daily Expedition Report posted online (Insert link to DER).
GAL13_11098
Another young man, Wilt, a 23-year-old photography student from Savannah Georgia, exclaimed, "I never thought you could get so tired chasing something that moves so slow," after spending three hours observing Galapagos giant tortoises along their migration route in the highlands of Santa Cruise Island.
GAL13_19206
I'm also the lucky one, having the opportunity to explore and discover the wonder of Galapagos through eyes of children. Nature and photography brings them back to what's in front of them – timeless moments without video games, cell phones, and text messages. After showing little Ellie, a precocious 7-year-old, pictures of her as a giant tortoise walked by, she proclaimed, "Well, you're not going to do any better than that," walking off as if a Hollywood star leaving a movie set.
Scrolling Slideshow